A tasty twist on traditional scrambled eggs that's sure to satisfy a hearty appetite. Dill and bacon drippings give this dish a unique, slightly smoky flavor, and the addition of mayo and cream makes the eggs extra rich.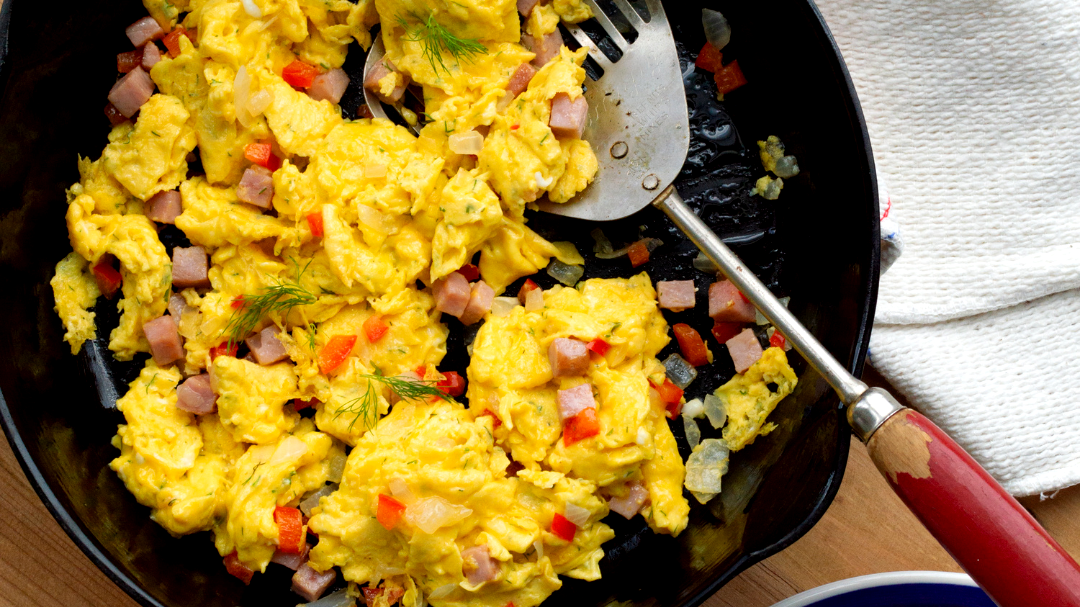 Directions
Step 1.

Directions 1. 1. Whisk together the mayonnaise, half-and-half, eggs, dill, and garlic powder in your Whiskware EggMixer and shake until smooth. Set aside. 2. 2. Heat the bacon drippings in a large skillet over medium heat. Stir in the red bell pepper

Step 2.

cook and stir until pepper begins to soften, about 2 minutes. Stir in the onion and ham. Continue cooking and stirring until the onion is translucent and softened, about 5 minutes more. Pour in the egg mixture. Cook and stir until the eggs are set, about 5 minutes.
Don't Forget
Eggs are fluffier when made with our Egg Mixer
Prepare
Cleanly + easily crack eggs and separate yolks with our built in lid design.
Whip
Secure the lid and evenly whip air in up to 8 eggs at once with the confidence that none of it will spill.
Clean
Dishwasher safe and BPA free means that cleanup is a snap!
Recipe Note
WHIP THIS UP WHEN: You need to satisfy a hearty hunger, and STAT! DON'T FORGET: The Whiskware Egg Mixer whips up perfectly frothy eggs in a flash, and features a built-in egg cracker, a removable egg separator, and minimal mess.