Spanish Tortilla de Patatas
Tapas, tapas everywhere! If you're a fan of Spanish food, you're a fan of tapas—the mini-meal morsels that make mouths water in restaurants and bars all across Spain. The egg-and-potato Spanish Tortilla is one of the most popular, and for good reason—it's delicious comfort food with a sophisticated flair.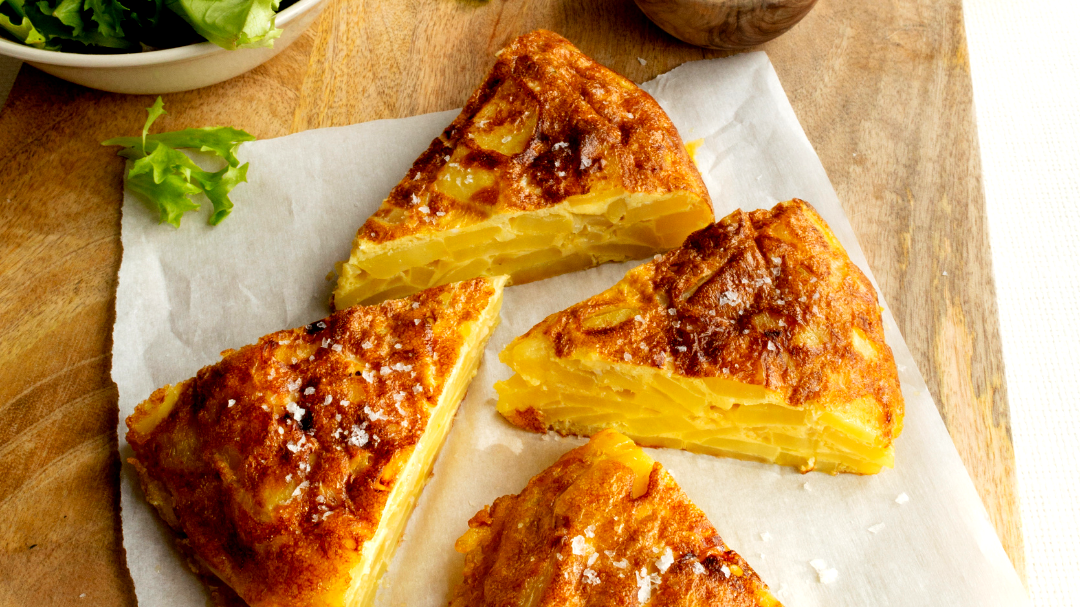 Directions
Step 1.

Heat all but 2-3 tablespoons of oil in a 10-12 inch skillet over medium heat. Add potatoes and onion—they should be mostly covered with oil. Season with salt.

Step 2.

As oil begins to bubble, reduce heat slightly. Cook the potato-onion mixture, turning occasionally, until potatoes are tender but not brown (test with a fork).

Step 3.

While the mixture cooks, crack eggs into Whiskware™ Egg Mixer and shake to whisk.

Step 4.

With a slotted spoon, scoop the potatoes and onion out of the oil and transfer to a large bowl. Add eggs and gently combine, being careful not to break the potatoes.

Step 5.

Clean out the pan and add the remaining oil. Heat over high heat.

Step 6.

Pour potato-onion-egg mixture into pan and cook for 1 minute; then reduce heat to medium-low and cook for another 5 minutes, until the tortilla begins to firm up around the edges and in the center.

Step 7.

To flip the Spanish Tortilla, first run a rubber spatula around the outer edge, helping separate the egg from the pan. Then, place a large-diameter plate over the top of the pan. Remove from heat and flip the tortilla onto the plate.

Step 8.

Next, gently slide the tortilla back into the pan. Using the rubber spatula, press the sides of the omelet in to achieve a traditional rounded edge. Cook on high for one minute; then reduce heat to low and cook for an additional 2-3 minutes. The tortilla is done when a toothpick inserted into the center comes out clean.

Step 9.

Let sit at room temperature for 15-20 minutes before serving.
Recipe Note
Oh my carbs! A slice of Spanish Tortilla is traditionally served with a few pieces of Pan con Tomate—toasted bread drizzled with olive oil, rubbed with garlic, and topped with tomato pulp.
DON'T FORGET…
The Whiskware™ Egg Mixer whips up perfectly frothy eggs in a flash, and features a built-in egg cracker, a removable egg separator, and minimal mess.