Blood Orange and Cardamom French Toast
Perk up your next brunch with this scrumptious Blood Orange and Cardamom French Toast, highlighting winter citrus fruit and warming spice. Sourdough bread provides a perfect contrast to the batter flavors, and a generous portion of eggs means you'll get your protein fix, too.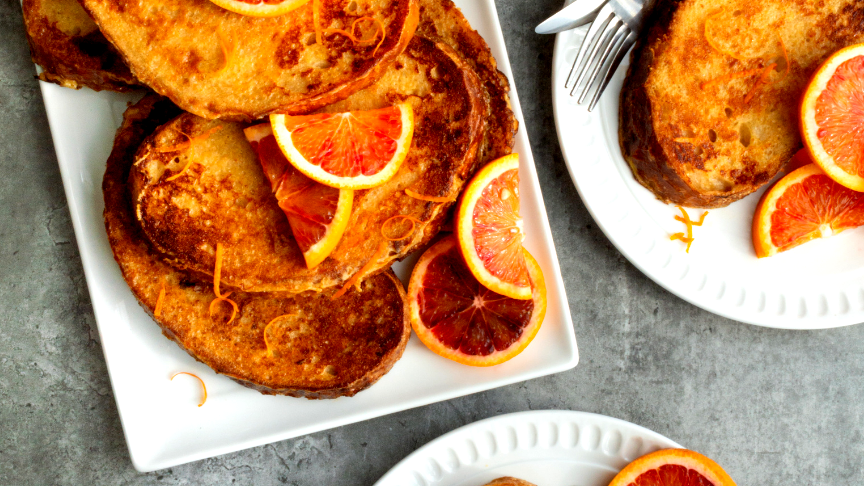 Directions
Step 1.

Add eggs, milk, sugar, orange juice, half the orange zest, vanilla, cardamom, and salt to your Whiskware™ Egg Mixer and shake until thoroughly mixed. Transfer to a shallow dish.

Step 2.

Heat a large, lightly oiled skillet over medium heat.

Step 3.

Dip 3 slices of bread in the egg batter, soaking each side.

Step 4.

Cook the bread until lightly browned, about 3-5 minutes on each side.

Step 5.

Transfer toast to a baking sheet to keep warm in the oven. Repeat with the remaining 3 slices of bread.

Step 6.

Serve topped with remaining orange zest and pure maple syrup.
Recipe Note
WHIP THIS UP WHEN…
Put away the everyday oatmeal and whip up this easy, yet distinctive breakfast to remember.
DON'T FORGET…
The Whiskware™ Egg Mixer whips up perfectly frothy eggs in a flash, and features a built-in egg cracker, a removable egg separator, and minimal mess.