This overnight French toast, packed with plenty of protein from the egg batter and nut topping, is ideal for post-race recovery after your local Thanksgiving Turkey Trot. Prep and refrigerate it the day before, then pop it in the oven while you take a long, hot post-race shower. Brunch will be ready when you are!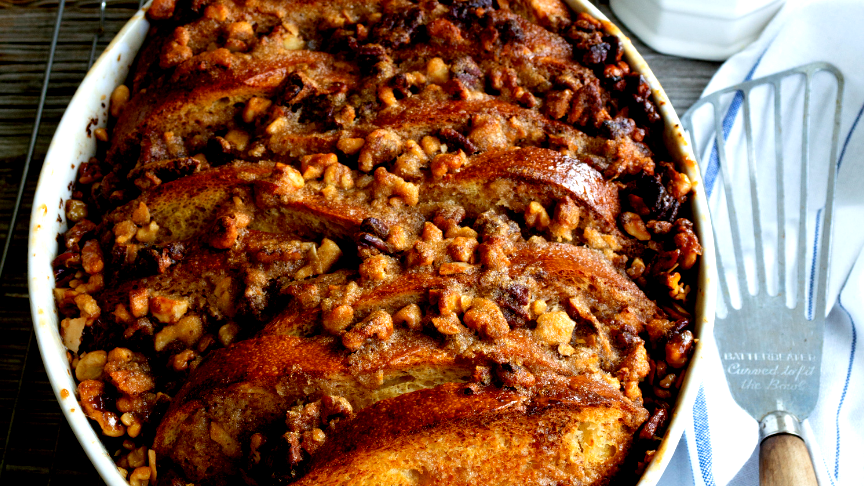 Directions
Step 1.

Lightly grease a 13x9-inch baking dish. Arrange bread slices in the dish, overlapping as necessary.

Step 2.

Add eggs, milk, half and half, vanilla, nutmeg, and cinnamon to yourWhiskware™ Egg Mixer and whisk together. Pour egg mixture evenly over bread; give dish a few shakes to distribute eggs into nooks and crannies. Press bread down with the back of a large spoon.

Step 3.

In a small bowl, mix butter, brown sugar, and corn syrup. Stir in nuts. Spoon nut mixture topping over the bread, then cover and refrigerate overnight.

Step 4.

In the morning, bake at 325F, uncovered, for 1 hour or until puffed and golden. Let stand 15 minutes before serving. Top with pure maple syrup if desired.
Recipe Note
WHIP THIS UP WHEN…
Kick off Thanksgiving morning with a family fun run, followed by a filling French toast brunch.
DON'T FORGET…
The Whiskware™ Egg Mixer whips up perfectly frothy eggs in a flash, and features a built-in egg cracker, a removable egg separator, and minimal mess.