Indulge in a delightful breakfast with these fluffy lemon blueberry pancakes. The batter combines the tangy zest of lemon with bursts of juicy blueberries, creating a perfect balance of flavors. The pancakes have a tender texture and a light golden exterior, making them a feast for both the eyes and the taste buds. The addition of milk and melted butter adds richness and depth to the batter, resulting in a melt-in-your-mouth experience. Serve these mouthwatering pancakes with a drizzle of maple syrup, fresh blueberries, and a garnish of lemon slices for a truly irresistible morning treat that will leave you craving more.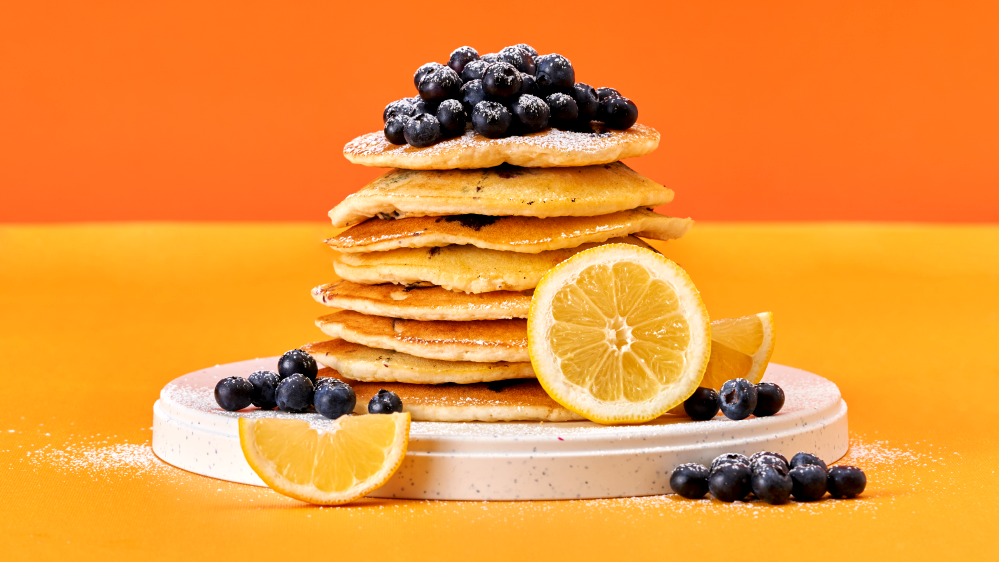 Directions
Step 1.

In your Whiskware Batter Mixer, shake together the buttermilk, milk, eggs, melted butter, vanilla extract, and lemon zest.

Step 2.

Open the Mixer and add flour, sugar, baking powder, and salt. Shake to combine.

Step 3.

Preheat a griddle or a large non-stick skillet over medium heat. Lightly grease the surface with cooking spray or a small amount of butter.

Step 4.

Squeeze out the batter into your desired size, spacing the pancakes a few inches apart. Quickly press the blueberries into the top of the batter.

Step 5.

Cook until bubbles form on the surface of the pancakes and the edges start to look set, about 2-3 minutes.

Step 6.

Carefully flip the pancakes and cook for an additional 1-2 minutes, or until golden brown and cooked through.

Step 7.

Remove the pancakes from the griddle and keep them warm. Repeat the process with the remaining batter, greasing the surface as needed.

Step 8.

Serve the lemon blueberry pancakes warm with additional blueberries, lemon slices, and a drizzle of maple syrup.
Don't Forget
Pancakes, crepes, waffles, and muffins are made so much better with the Batter Mixer
Easy to Use
Simply toss your ingredients into the bottle, shake, and pour! No appliances or utensils needed.
Easy To Love
Create fast, fluffy, lump-free, air-whipped pancakes, waffles, crepes, and more that your family will love!
Easy to Clean
When breakfast is over, cleanup is a breeze. Simply use the dishwasher or clean it by hand in seconds.
Recipe Note
This recipe is the same as our famousWhiskware Classic Pancakes, with only a few modifications. We're adding some extra sugar to balance out the tartness of the lemon. Feel free to subtract a tablespoon if you don't have much of a sweet tooth.