A holiday breakfast or brunch calls for a special treat, and this decadent Eggnog French Toast delivers. The best part? It's even better when you prepare it the night before and allow the flavors to fully soak in saving you more time to enjoy your holiday morning.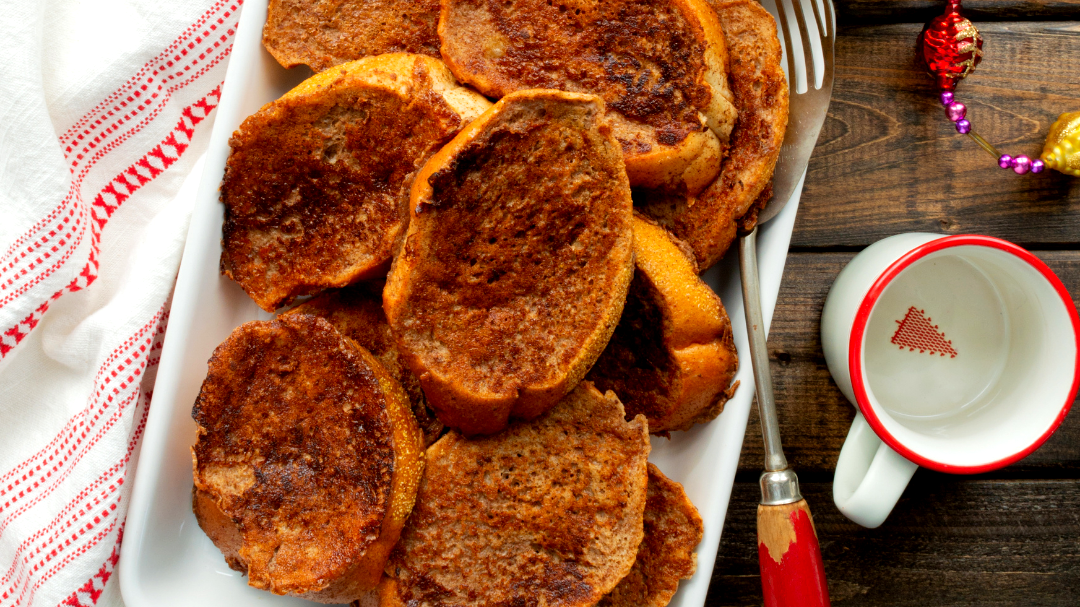 Directions
Step 1.

1. Add the eggs, eggnog, cinnamon, and pumpkin pie spice to your Whiskware Egg Mixer and shake until smooth. Pour the mixture into a shallow dish. 2. Preheat an electric skillet to 300 degrees F (150 degrees C). Lightly grease the skillet. 3. Dip one slice of bread at a time into the eggnog mixture, being sure to coat each side of the bread thoroughly. 4. Place the prepared bread slices on the preheated skillet and cook, turning once, until golden brown on each side. Place cooked slices on a serving plate and cover with foil to keep warm, until all French toast is cooked. Serve immediately. TIP: To make this French toast even more flavorful, soak and refrigerate the bread overnight in a large baking dish.
Don't Forget
Eggs are fluffier when made with our Egg Mixer
Prepare
Cleanly + easily crack eggs and separate yolks with our built in lid design.
Whip
Secure the lid and evenly whip air in up to 8 eggs at once with the confidence that none of it will spill.
Clean
Dishwasher safe and BPA free means that cleanup is a snap!
Recipe Note
WHIP THIS UP WHEN: Need a festive morning dish to set the mood for your next family holiday? Done! DON'T FORGET: The Whiskware Egg Mixer whips up perfectly frothy eggs in a flash, and features a built-in egg cracker, a removable egg separator, and minimal mess.