A favorite dessert from Down Under, we opted to make this Aussie staple with an American twist to celebrate Independence Day. Red fruits and blueberry sauce adorn the white base, which resembles crispy meringue on the outside but has a soft, fluffy, marshmallowy interior. You will love it!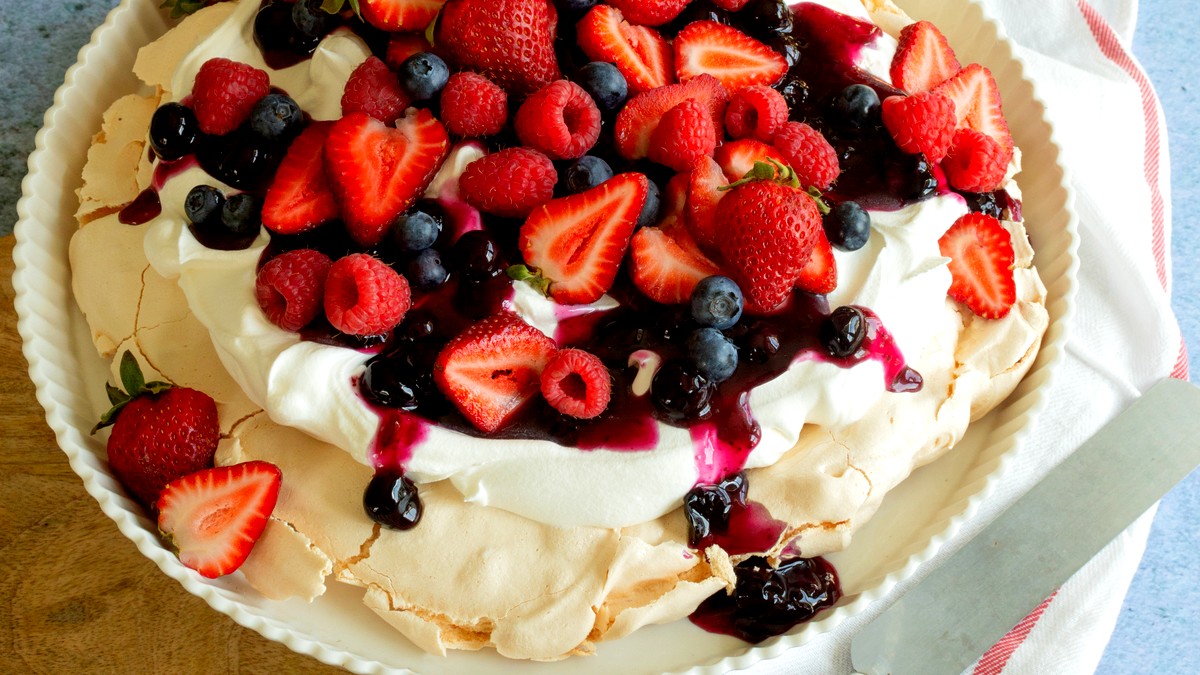 Directions
Step 1.

Preheat oven to 180F (200F will work as well depending on oven settings) and line a sheet pan with parchment paper. Using your Whiskware™ Egg Mixer, separate egg whites from yolks.

Step 2.

Add egg whites and salt to a bowl and whisk on high with an electric mixer about 1 minute, until firm. Continue to whisk on high while slowly adding sugar, for about 2 minutes, until firm, shiny peaks form.

Step 3.

Sift cornstarch into bowl containing egg mixture, add vinegar and vanilla, and gently fold ingredients together. Scrape mixture into the center of the sheet pan using a rubber spatula. Spread it into a circular shape, about 8-10 inches in diameter, with roughly equal height throughout.

Step 4.

Bake for 90 minutes, then turn off oven and (keeping door closed) leave to cool inside oven for one hour. Remove from oven and carefully transfer to serving dish.

Step 5.

Spread fresh whipped cream across the top of the meringue base. Top with fresh strawberries, raspberries and blueberries and drizzle with homemade blueberry syrup. Slice like a cake and enjoy!
Recipe Note
WHIP THIS UP WHEN…
A decadent-looking, light-tasting dessert to finish off your July 4th barbeque in style.
DON'T FORGET…
TheWhiskware™ Egg Mixer whips up perfectly frothy eggs in a flash, and features a built-in egg cracker, a removable egg separator, and minimal mess.