Sweet Potato Spanish Scramble
Snuggle up! This Sweet Potato Spinach Scramble is perfect for warming up on a cold winter morning when all you want to do is stay in bed. Chock full of antioxidants from sweet potatoes and spinach, protein from eggs, and cumin's aromatic kick, it's a dish that delivers healthy substance and intoxicating taste.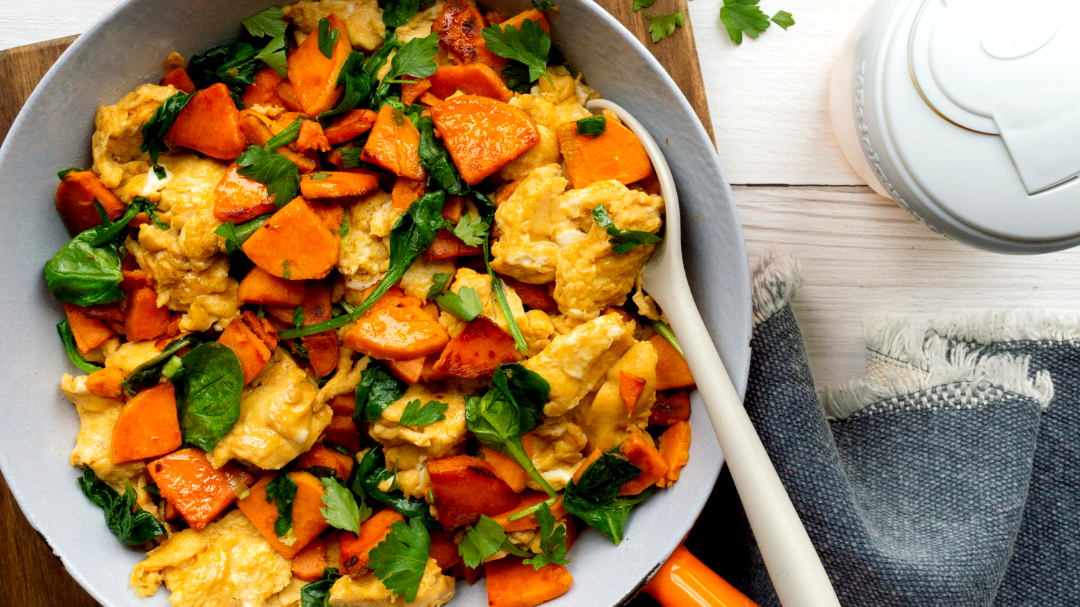 Directions
Step 1.

Add eggs, milk, cumin, salt, and pepper to your Whiskware Egg Mixer and whisk together.

Step 2.

Melt butter in a skillet over medium heat. Add potato and onion and cook, stirring occasionally, until potatoes are slightly tender and lightly browned.


Step 3.

Add spinach and cook for another minute, until spinach begins to wilt.


Step 4.

Pour egg mixture into skillet and let cook until mixture begins to set on bottom and around edges. Lift partially cooked eggs with a spatula to allow raw egg to flow onto the pan. Cook to desired degree of doneness, gently scrambling toward the end.


Step 5.

Top with fresh parsley and enjoy.

Recipe Note
WHIP THIS UP WHEN: You want a warm-me-up, immune-boosting winter scramble that's sure to satisfy.
DON'T FORGET: The Whiskware Egg Mixer whips up perfectly frothy eggs in a flash, and features a built-in egg cracker, a removable egg separator, and minimal mess.