Breakfast is everything in Turkey. A traditional Turkish breakfast consists of small portions of 10-15 different dishes—which together make a monstrous meal, meant to be savored while socializing and sipping bottomless Turkish tea. In the midst of different breads, pastries, cheeses, olives, salads, and spreads, you'll find this cornerstone scrambled egg dish.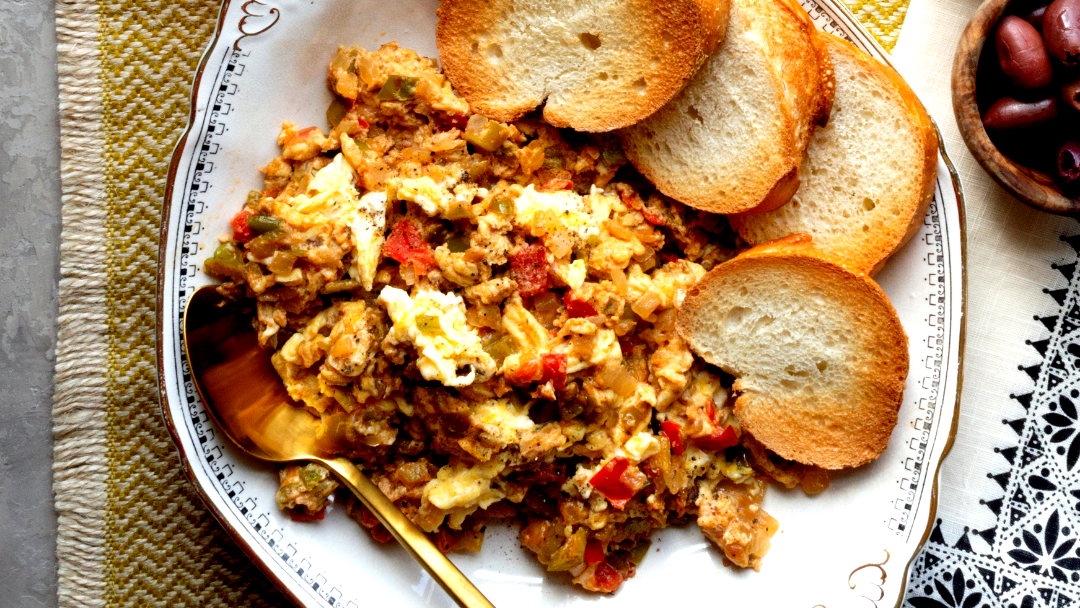 Directions
Step 1.

Heat olive oil in a medium nonstick skillet over low heat. Add onion, shishito pepper, and spices and sauté, stirring regularly, until vegetables are soft. Add tomato, continuing to stir frequently for about 3-4 more minutes.

Step 2.

While vegetables are cooking, crack eggs into Whiskware™ Egg Mixer and shake to whisk. Pour eggs into pan on top of vegetable sauté. As eggs cook, gently fold them together with vegetables. Cook until the eggs are soft scrambled.

Step 3.

Remove from heat and enjoy!

Step 4.

Our photo shows this dish served with traditional accompaniments: kasar cheese, cucumber, olives, crusty bread, and tea.
Recipe Note
WHIP THIS UP WHEN…
Want a typical taste of Istanbul, in all its Euro-exotic glory? Look no further than Turkish Menemen—best served with warm, crusty bread.
DON'T FORGET…
The Whiskware™ Egg Mixer whips up perfectly frothy eggs in a flash, and features a built-in egg cracker, a removable egg separator, and minimal mess.