Winter Fennel Celery Slaw Salad
Is it a slaw? Is it a salad? Who cares about culinary technicalities when it's this delicious! A great choice for your winter table, this dish balances the distinct flavor of fennel with pungent blue cheese and the sweetness of figs. You'll also find protein from walnuts and fiber from celery, all in a hard-to-resist fresh and crunchy blend.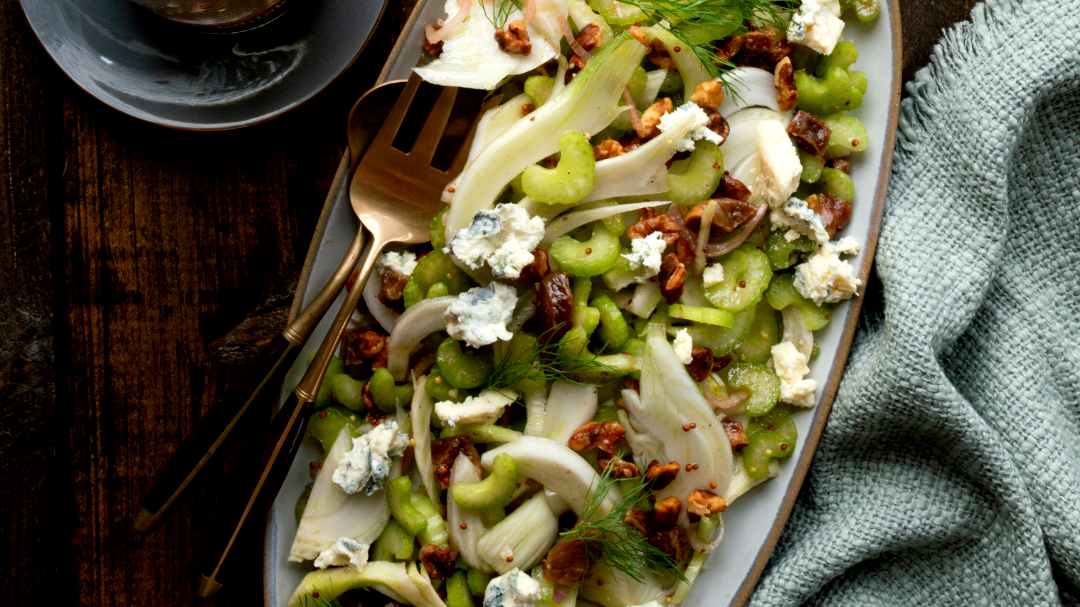 Directions
Step 1.

Preheat oven to 350°. Toast walnuts on a rimmed baking sheet, tossing once, until golden brown (about 5–8 minutes). Let cool.

Step 2.

Finely dice half the shallot; thinly slice the other half, crosswise. Set sliced shallot aside. Add diced shallot, mustard, sugar, 1/4 cup vinegar, olive oil, salt, and pepper in your Whiskware™ Dressing Shaker and shake until well combined.

Step 3.

Toss figs, sliced shallot, and remaining 1/4 cup vinegar in a small bowl. Let sit until figs and shallots are softened, at least 30 minutes.

Step 4.

Just before serving, toss fennel and toasted walnuts in a large bowl. Drain figs and shallot and add to bowl. Drizzle with vinaigrette and toss to coat. Top with blue cheese and season with additional salt and pepper, to taste.
Recipe Note
WHIP THIS UP WHEN…
Need a distinct, yet simple-to-make veggie side to mix up your meal? Done and done.
DON'T FORGET…
It's easy to make tasty, tangy, tantalizing dressings and marinades from scratch with the Whiskware™ Dressing Shaker.